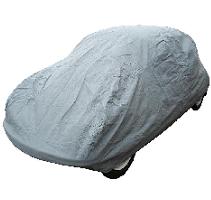 Custom tailor made car cover for the VW Beetle Classic saloon up to
1979 Flat Screen Models with European spec bumpers Only. If you have US spec bumper fitted or a 1302 or 1303 model then you will need the 1975 onwards cover as this one will not fit. If in doubt please call before ordering.
. This cover comes in its own handy case and fully tailor made. When you have decided on the cover you need, simply change the boxes below to the correct type of indoor or outdoor cover for your VW Beetle. The one in the photo is the Stormforce Cover.
A quick reminder on what you need to know about our car covers.
Recommended for garage use
Fully breathable fabric allowing damp and moisture to escape safely Manufactured from a Black coloured non-woven material thats soft on paintwork 100% UV resistant to prevent paint fade (im sure you have all seen this on red cars!) Comes in its own handy zippable carry case for storage when not in use Elasticated hems giving that extra snug protection Ideal for show cars in dry storage
Recommended for lightweight indoor and outdoor
Indoor or outdoor waterproof car cover Double stitched on all seams for strength and long life Underbody securing straps with soft silicone fastner covers Elasticated front and rear sections for snug fit Complete with its own high quality fabric bag for storage Perfect for classic car owners at shows to protect from the rain
Recommended for heavy duty indoor and outdoor
Heavy duty indoor and outdoor car cover Double stitched and heat sealed seams Tough outer skin and soft non-woven interior lining to protect paintwork Seperate zipped storage bag Complete with roof vents to help damp and moisture escape faster
The serious protection car cover
Breathable 4 layer indoor, outdoor, waterproof car cover 2 Outer layers give a padded feel thats soft and pliable The 3rd membrane layer is waterproof and breathable The 4th internal layer is a soft non scratch against chrome and paintwork. Side panel eyelets included for use with the optional locking kit. Welded seams and double stitched hems for strength and long life