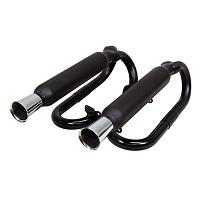 Designed to give you all the performance possible with a dual muffler system. Features include improved ground clearance, quieter operation and easy engine access.. Supplied with gaskets to fit.
These look and sound awesome once fitted. For use without heaters. Made by Empi
The black paint finish on exhausts is designed only to protect the exhaust during transportation to the customer, it is not high temperature paint. Due to the extreme conditions exhaust parts operate under, we are unable to guarantee the finish of chrome plated parts. We recommend painting in a high temperature exhaust paint to prolong the life of the exhaust.