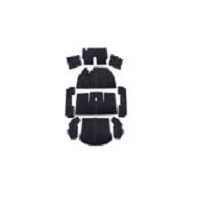 These Quality Carpet kits are made In The UK
They are made in top quality hard wearing automotive carpet with a contrasting edging. As you can see the kits do all inside the car including the rear luggage area. They do not include the underbonnet carpet. When fitted all edges that show are bound for a quality look. They are suitable for the Model Listed Above Only. They do need slight cutting to fit (around handbrake-gearlever-pedals-heater outlets),but easily done with sharp knife.
PLEASE NOTE THAT DUE TO HIGH DEMAND THESE ARE SENT DIRECT FROM THE FACTORY SO MAY TAKE UPTO 5 WEEKS TO ARRIVE.
Please See our Colour Sampler in the Technical Data and Info Section on the left hand side of this page for the photos of how this kit will look.