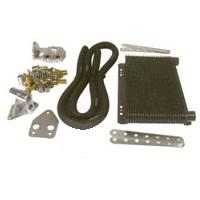 Empi Competition Oil Cooler Kit
Stacked, plated coolers offer maximum cooling and high strength. Far superior to tube type coolers. Manufactured from Top quality aluminium and supplied with an oil filter head and all other fittings including a length of oil hose.
A bypass adaptor is included to replace the standard oil cooler on buggies, trikes and kits ONLY. On standard vehicles you should retain the original cooler with the external cooler as an addition, fed by a full flow system.
You can choose size and spec required below.
24 PLATE IS 1.5" X 3" X 11"
48 PLATE IS 1.5" X 5.75" X 11"
72 PLATE IS 1.5" X 8" X 11"