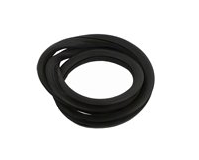 Rear Rubber Side Window Seal for the Camper 1968-1972. Good quality rubber seals ideal to replace the leaky worn out ones on your bus.
PLAIN side (middle or rear) window seal - FACTORY Microbus 8/67-7/72
PLEASE NOTE: Plain side window seals on models >7/72 have a different profile to the seals on later buses. This item is correct for early buses and is an easier fit than the later seal.