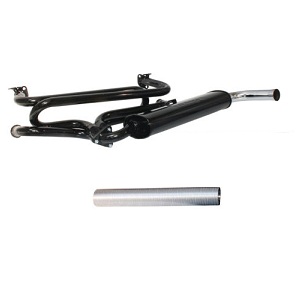 PREMIUM QUALITY SINGLE QUIET PACK EXHAUST SYSTEM, INCLUDES BLACK MUFFLER WITH CHROME TIP AND BLACK TUBULAR HEADER.
FITS BEETLE, SUPER BEETLE, GHIA & BUS WITH 1300CC-1600CC ENGINE. THIS ONLY FITS THE CAMPER UPTO 1971.
THESE ARE REALLY TOP QUALITY AND FAR BEETER THAN MOST OF THE CHEAP ONES OUT THERE.
Please choose Header Bore size and Quality below.
Please also state What Year and What Vehicle it is to be fitted to so we can send the correct one.
PLEASE NOTE THAT THE BIG BORE HAS NO CHROME TAILPIPE IT IS BLACK.