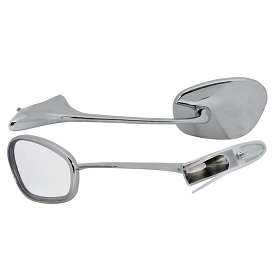 Pair of Albert Swan neck mirrors attach through original trim holes on the front quarter panel of a pre 1966 Beetle for a vintage or resto appearance. Finished in a high quality chrome, supplied in pairs.

They can be retro-fitted to a later vehicle if the pre 1966 trim is used

We recommend a good quality metal polish to maintain the chrome.The arms are cast aluminium and the heads are pressed steel - all then chrome plated.