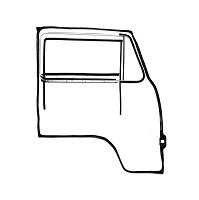 All seals are Made in Brazil. For the Bay Window 1968-1979.
This kit contains all the seals to rebuild your cab door.
These 12 part kits include inner and outer scrapers, small and large felt guides, 5 x guide clips, quarter light seals and main door seal.
Great deal for a limited time only.
PLEASE CHOOSE SIDE REQUIRED WHEN ORDERING...THESE KITS ARE MADE UP TO ORDER AND CAN TAKE UPTO 14 DAYS TO ARRIVE SO PLEASE BE PREPARED TO WAIT.