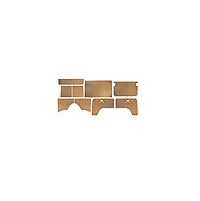 Bare board interior Panel kit for LHD or RHD Bay Window Camper from 1971 to 1976. Cover yourself with your own fabric.

9 Piece kit including:

2x Front Door Panels
2x Rear of Front Seat Panels
1x Sliding Door Panel
1x Panel Opposite Sliding Door
2x Rear Quarter panels
1x Rear Hatch Panel
These are excellent quality and not to be confused with the cheap ones on the market.