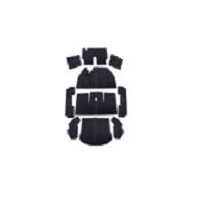 These Quality Carpet kits are made In The UK
They are made in top quality hard wearing automotive carpet with a contrasting edging. As you can see the kits do all inside the car including the rear luggage area. They do not include the underbonnet carpet. When fitted all edges that show are bound for a quality look. They are suitable for the Model Listed Above Only. They do need slight cutting to fit (around handbrake-gearlever-pedals-heater outlets),but easily done with sharp knife.
PLEASE NOTE THAT DUE TO HIGH DEMAND THESE ARE SENT DIRECT FROM THE FACTORY SO MAY TAKE UPTO 10 WEEKS TO ARRIVE.
This carpet set features:
-Factory style fabric bound edges.
-Excellent quality narrow weave carpet.
-Carpet guaranteed for life against mould and mildew.

We feel these carpets offer an unrivalled combination of quality and value for money.

It is supplied with detailed fitting instructions and care advise.

Please specify your chassis number when ordering.

We may need to get in touch and ask you the following questions during the ordering process:
Does the vehicle floorpan have modifications?
Does the vehicle body have modifications?
Does the vehicle have a metal kick plate (footrest) on the passenger's side?
Does the vehicle have the driver's side metal kick plate near the pedals?
Are the air vents in the scuttle or under the door?